Social Activities
WELL DONE TO ONE OF OUR MEMBERS
In the New Years Honours List January 2017,Lion Peter Bromell was awarded the B.E.M. (British Empire Medal) for local charities such as Hospiscare,Guide dogs for the Blind, and Outreach, and his community work in Tedburn and Teignbridge.he was born into a farming family in Tedburn,and has lived there all his life.He is known and liked so well,that the villagers gave him a big party for his 80th birthday in 2014. He is an active and supportive member of our club Exeter West Lions.
---
Social outing
On February 24th 2017 our club had a social outing to Hanlons Brewery on the Crediton road,where we were served with a two or three course meal,according to choice,plus tastings of the various beers made there,which made for a very enjoyable evening.
Charter Dinner/Dance April 15th 2017
To celebrate our 46th year of our club being formed,we held a dinner/dance at the Exeter Court Hotel,attended by 53 people from our club and other clubs in the district.Our guests were District Governor Lion Fred Broome and Lion Lesley Chudley (Lion Wendy Broome was in Spain,visiting the Twin Lions Club of Crewkerne ,Fred and Wendy's club).After a very enjoyable 3 course meal,our President Lion Mike Mitchell,gave a speech,listing the projects we had done through his year,Then D G Fred gave an entertaining speech,and then it was time to give out awards.Firstly badges to people for the number of years service they had given to Lions,then Lion Mavis Crowley was called to come up to receive her Melvin Jones Fellowship award (the highest award that a Lion can be given).This was totally unexpected by Mavis,and she found it hard to take in!,but it was totally deserved.She has been President of our club(the only lady so far),done welfare and social office,and she helps with sorting clothes at Hospiscare warehouse,as well helping at the Car boot sale at Marsh Barton.Next person to be called up to receive his M J F award was our Treasurer,Lion David Gubbin,again a total surprise.He has kept us on the straight and narrow with his good accounting for many years,has been President,and also helps in all fund raising club projects---a good all-round member.Lion Clive from Seaton club provided music for dancing,so all in all,a very successful evening. Here are some photos, taken on the night.
The Easter Egg was won in the draw by Lion President Mike,who took it next day for the children of Bramble Ward in the R D&E to share ,and they were delighted to smash it up and eat it!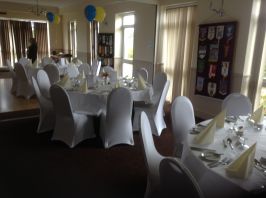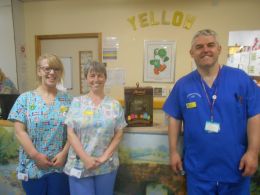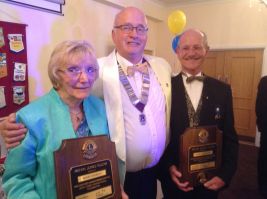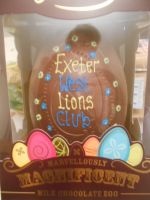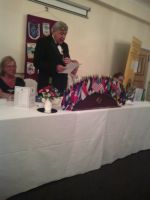 Handover to new President Lion David Lyon from our last President Lion Mike Mitchell
On June 20th 2017,we held our Handover at our Dinner Meeting ,at the Ley Arms Inn,Kenn. Lion members,partners,and friends, all enjoyed a roast beef dinner,with desserts of their choice. President Mike then handed over to Lion David by placing the chain of office around his neck,and pinned the President's badge on him.He then thanked all his officers and members for supporting him during his year.Here are a few photos of the Handover,and of our new President,Lion David Lyon.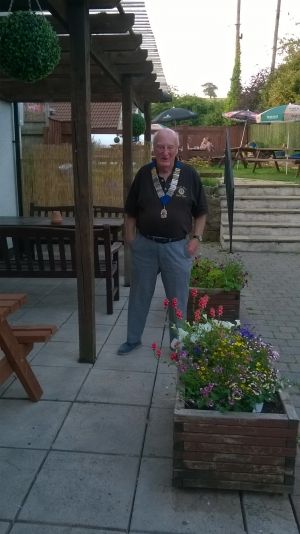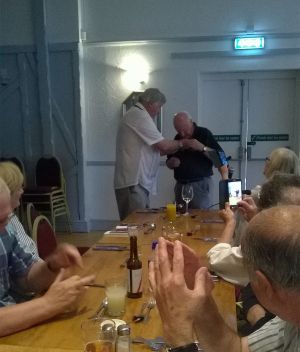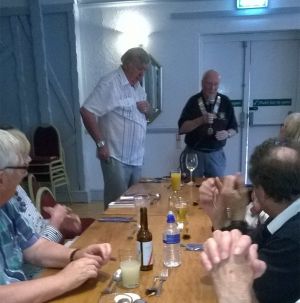 Our next social event is our dinner meeting at the Ley Arms on Tuesday July 18th 2017
---
Notice from Lion President David re the Car Treasure Hunt on August 20th 2017
Exeter West Lions Club are holding their annual hunt into the great unknown!.this year,the hunt will take our intrepid car drivers,and passengers through uncharted territory,along the highways and byways of rural Devon.The start will be at the Haldon Forest Diner,,just off the A38 (Plymouth bound),near Haldon Racecourse at 2pm..If you would like something to eat/drink before the hunt,the diner offers a good selection of food and beverages.The finish will be at the railway station at Staverton,where the intrepid hunters will be able to have a cream tea about 4pm..The route instructions will be simple to follow,and no map is needed.More information,if required from Lion President,David Lyon on 01392439926 or mobile 07867723581
---
The car treasure hunt (ABOVE) was very successful ,,30 people taking part.No one got lost,mainly due to the directions being easy to follow---answers to clues not always easy to spot,quite a bit of reversing going on!!.We all arrived at Staverton railway coach/cafe,to find the long table laid with white tablecloths,and full of food---,sandwiches,cakes on two tier cake stands.scones with dishes of clotted cream and jam (all delicious !),and as much tea/coffee as you wanted.All the food was homemade and prepared by our Lion member,Sue Bates,ably helped by her husband Steve.We all thoroughly enjoyed the whole afternoon.Here are some photos:-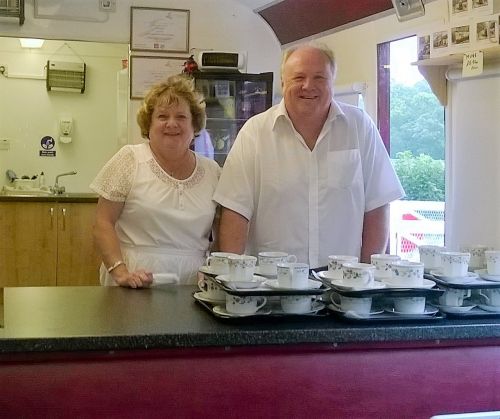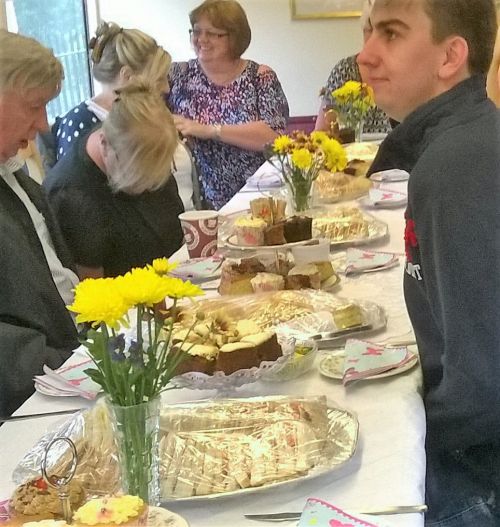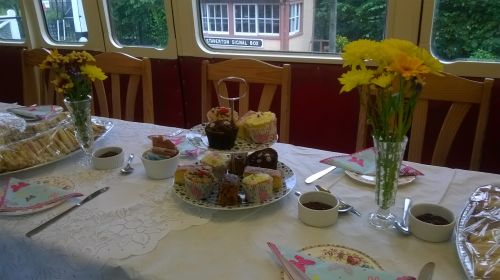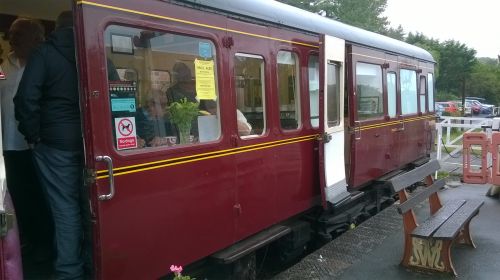 Party given by Lion Reg and his wife Denise,on the occasion of their 45th Wedding Anniversary
and Lion Reg's 70th birthday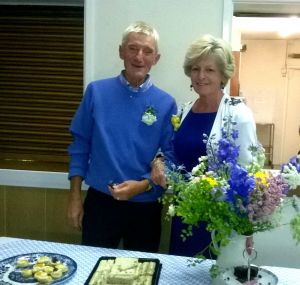 On Saturday July 29th 2017, Family,Friends, and several Exeter West Lions attended the above celebration at Longdown Village Hall,Along with a quiz, a Magic Circle magician,skittles game,and a scrumptious afternoon tea,followed by speeches,cutting of the cake (Helped by grandson OWEN,who took it all very seriously !) and then the toast with glasses of bubbly for all. A very happy time was had by all ( and Reg won the skittles!) Here is a photo of the happy couple.
---
47th Charter Night April 21st 2018
We held our Charter Dinner at the Exeter Court Hotel, Kennford. It was well attended by 68 Lions and guests,and the meal was thoroughly enjoyed by all.Among our guests were DG elect Lion Peter Rowe,and PDG Lion Christine Rowe.After the meal,and speeches,we came to a very special part of the evening,which was the presentation of a Melvyn Jones Fellowship shield to Lion Michael Mitchell.This came as a complete surprise to Lion Mike,who totally deserved this honour for all the hard work he has done/is doing for Exeter West Lions.He is at present our secretary,and has served in many offices including President 2016/2017.
DG Elect Lion Peter Rowe had great pleasure in presenting him with this award along with Lion President Dave Lyon.Here are some photos of Lion Mike,with his shield.and receiving his Melvyn Jones badge.Well done Mike---you have earned this award.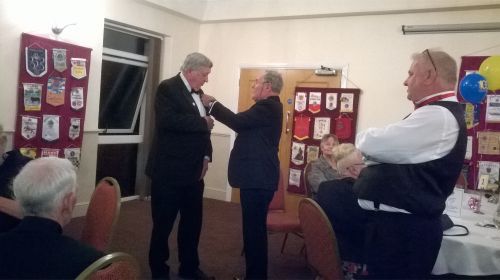 ---
On November 5th,Lion Neil held a bonfire night party at his home.We all enjoyed a sumptuous hot and cold buffet,mostly prepared by Jenny Mitchell who worked very hard to get it all ready. Desserts were supplied by Lion members and their wives. We then enjoyed a firework display supervised by Lion Twiggy,a retired fireman. A great evening ,and many thanks to Lion Neil for hosting it.
President's Handover on July 3rd 2016,
Held at Lion Neil Moxey's home,from Lion Carol to Lion Mike. A selection of photos of members and friends enjoying the BBQ on a lovely sunny day.It was the 86th birthday of Lion Gerald Adams (left front,on white chair),Next to him is Lion John Crowley,who was 80 in February.
An August afternoon on the Tiverton horse-drawn barge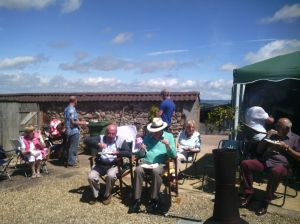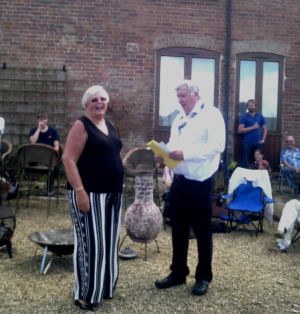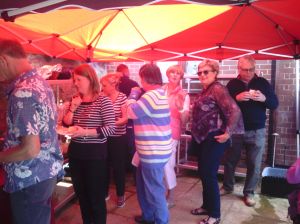 On August 6th 2016 we had a social outing to the Tiverton Horse-drawn Canal Barge.one of only four left in the UK.About 30 members and families had a memorable afternoon travelling along the peaceful Tiverton Canal--no traffic except for cyclists along the tow path.Our lovely Shire horse that pulled us was called Taffy (as he is a Welsh cob)We stopped and got off at the half way point before our turn-around,to give the horse a rest and a cold water wash.as it was a very hot day.We were allowed to give Taffy Polo mints,which he loves--in unlimited quantities!Here are a few photos from the outing.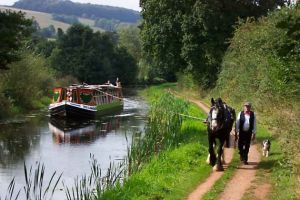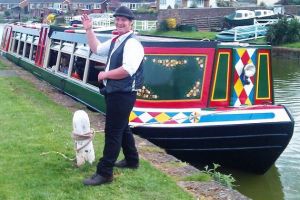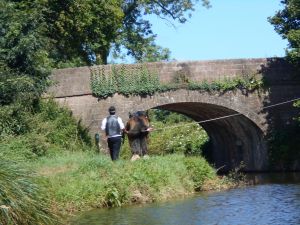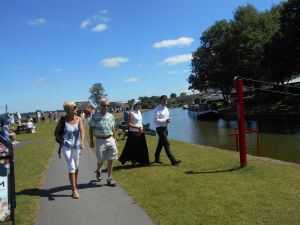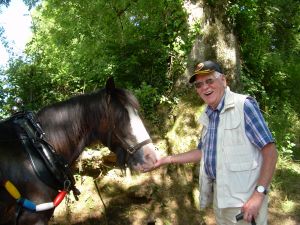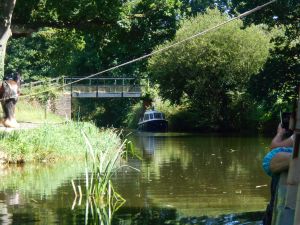 ---
November 5th 2016
On Bonfire night,a social and firework evening was held at Lion Neil Moxey's house. Neil and Deirdre provided a sumptious hot and cold buffet,and the ladies brought along desserts ---all VERY enjoyable.The donated fireworks were lit and fired by our very own retired fire officer,Twiggy Lake,who ensured our safety -(we were allowed to light sparklers ourselves!)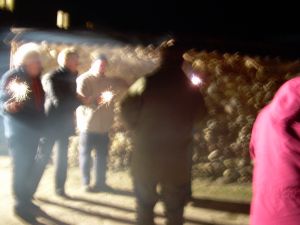 Many thanks to Neil and Deirdre for hosting us
---
Our Christmas outing 2016
On December 9th,members of our club and their partners/friends,enjoyed a steam train trip,from Buckfastleigh station,to Totnes and back.via Staverton.
Before boarding the train,we all had warm mince pies with tea or coffee,in the cafe at Buckfastleigh. On arriving at Totnes,we went out onto the platform,where the brass band played carols for us all to sing,from printed carol sheets,with the aid of torches.Here is a picture of the band.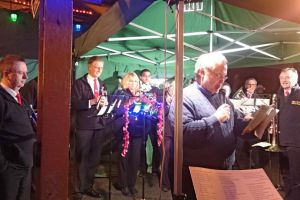 We then re-boarded the train,and then got out onto the platform at Staverton,where we once more went out onto the platform for more carols,accompanied by the brass band.
With a few drinks (some supplied by Lion Paul--very nice too!) and ones we took ourselves,it was a very enjoyable evening.Well done Lion Sue and her husband Steve for arranging this outing for us
---
CHRISTMAS DINNER/DANCE 2016
On December 3rd 2016 several members of our club attended a Dinner/Dance at Fingle Glen Golf Club,Tedburn St Mary
Held at Fingle Glen golf club ,Tedburn St Mary ,this yearly event for charity was arranged by club member Peter Bromell and other members,with good support from the local community.This year it was to provide new nets for Tedburn Football Club and enough money was raised to do this.
-----------------------------------------------------------------------------------------------------------------------
Halloween Lunch October 31st 2015

Many thanks to Lion Martin Fairley and Linda for hosting our Halloween Lunch.