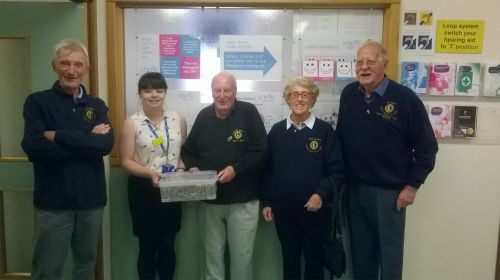 EMAIL FROM THE PROGRAMME DIRECTOR OF WIZEAR TRUST, ZIMBABWE 2015
WizEar would like to express profound gratitude towards your continued support in making ear and hearing healthcare provision a reality for many under privileged children and adults living with hearing impairment in Zimbabwe.
We now have over 250 clients under our hearing aid programme and thanks to your support, all clients are benefitting from comprehensive follow up services.
I have the pleasure of attaching a report for the hearing aid fitting clinic held in June 2015.
Many thanks
Dr John Matsekete, MBChB, MPH (I)
Programme Director
WizEar Trust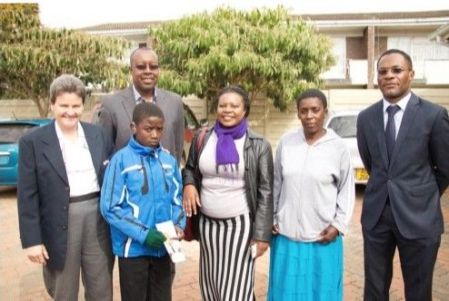 Zimbabwe
,
Photo of staff at clinic who fit Hearing aids to deaf children in Harare, Zimbabwe.

Click above on "Report" for more information and pictures. Post Script we sent another 125 hearing aids in April 2018
.In March 2019,we sent another 900 hearing aids given to us by the Hearing department of the R.D &E Hospital,Exeter here is a photo of the presentation:-
---
On Sunday August 12th 2018 we ran a stall at Marsh Barton Car Boot Sale,and raised £!07.30.The total for the 3 run this year is £282.3
---
We ran a parking area at Barnfield car park,and raised £150 in one session
---------------------------------------------------------------------------------------------------------------
On September 8th 2018,we had 3 spaces at Tedburn St.Mary Fair,one for the Bottle Stall,to win a bottle of wine,Two,the cake stall,which also had savoury Items.A good selection of cakes,to which Lion Sharon Foster donated 90 cup cakes that she had made--well done to all the ladies who contributed and sold the cakes,Jenny Mitchell, Michaela Lake,Lion Sue Bates and Lion Marjorie Cane. The third area was the back of Lion Neil Moxey's van,where Lion Twiggy Lake and Lion Neil Moxey were asking for donations for pairs of FlipFlops.We had been given 500 pairs by the Eden Project,all nicely packed in linen bags,all adult sizes ,and people donated money to get a pair.We made £154.50 for local charities.Also.to promote Lions,member of Exeter West club Twiggy Lake,dressed in his Lion costume and went around the fair with his wife who carried a collecting bucket.The children loved him.He then went to the climbing tower on the Fair site,in his costume,and climbed almost to the top.before sliding down to the ground.Here are some pictures of the day.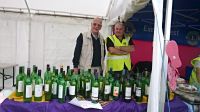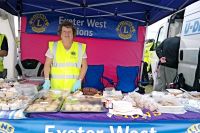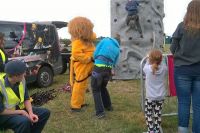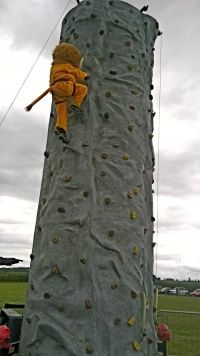 Collapse of Lion Twiggy after cli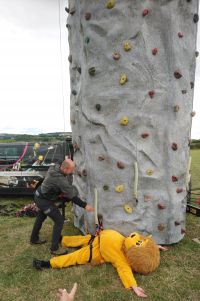 mb !!
---
On Wednesday September 19th,we held a 10 pin Bowling evening
We were given free use of the alleys by Haven Banks bowling club manager,and got enough bowlers to use 18 alleys.Each player paid £10 to play with 6 players per team,and Jenny Mitchell ran the draw,which raised £234.01. The grand total was £1339.We presented a cheque for £500 to Balloons,a charity for helping bereaved children,and a cheque for £500 fo CLIC (charity for Leukaemia in children).Both charities put teams in.The winners were presented with trophies.The winning team were from Hospiscare,and the person with the highest score was Matt Lake.The person with the lowest score was me,the writer of this article!--Lion Marjorie Cane,and I received Eyore.a lovely cuddly toy.which I gave to Lion Clif Cane's great grandson,Reuben aged 21 months,and he loved Eyore. A great evening with a fun and happy atmosphere.
Here are some photos of the evening.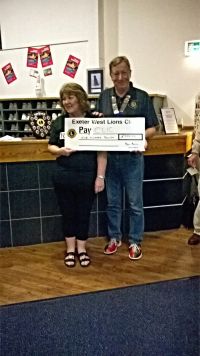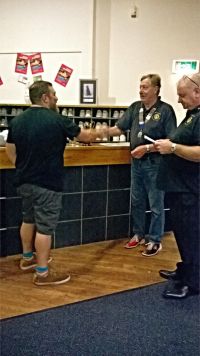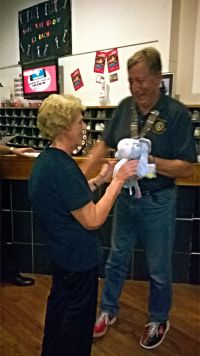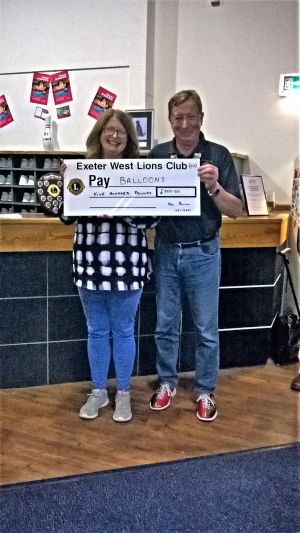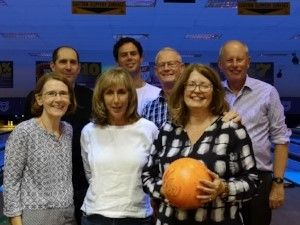 ---
Visit to the Memory Cafe,Dunsford
On September 11th 2018,several of our Lion club members,visited the Memory Cafe at Dunsford.The members of the cafe who are Alzheimers sufferers and their carers,were there that day,to plant spring bulbs in their individual plant pots,with help from us and carers,We donated the compost that they used.We enjoyed interacting,and also enjoyed the coffee and cakes given to us!
Here are a few photos of the visit :-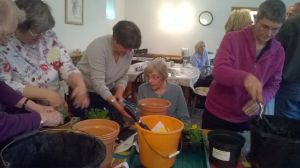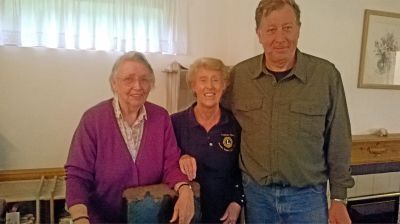 ---
HALLOWEEN PARTY ,OCTOBER 27TH 2018
A party of witches ,wizards and spooks gathered at the house of Lion Martin Fairley,and wife Linda,for a lunchtime party.We were able to sit outside in warm sunshine some of the time,on their sheltered patio.We retired indoors to eat hot food,supplied by members and member's wives,and two tasty hotpots made by Linda.We then enjoyed a selection of cold and hot puddings,tea and coffee.
Many thanks Martin and Linda for hosting a very enjoyable party.Here is a photo:-


---
Good Friday April 19th 2019
Our youngest Lion club member Aimee Foster aged 19, totally organised a Bingo evening at the Ley Arms,Kenn.She bought an electronic bingo machine on ebay, (very good it was too!),all the cards with numbers to give out to each person attending.Cards withe a flyer game cost £10 a head. There were prizes for a line, and full house on each game,and Full house on the Flyer. the prizes were Easter eggs for a line and boxed Chicken Dinners complete with veg/potatoes.The prize for the Flyer game was a boxed LAMB dinner complete with veg/potatoes.Aimee made a profit of £352 for our charities. A wonderful effort Aimee !
---
Easter fundraising 2019
In the weeks leading up to Easter, several of our Lions took Easter eggs that we had bought,into lots of Pubs in our area.They had sheets with numbers 1-100 and sold them for £1 a square.The winners were drawn out on Easter Sunday, and the proceeds for our charities were £922,which was an excellent amount.
---
On Saturday October 5th 2019,we held a Race Night at the Golf and Country Club,Exeter
75 people enjoyed a very nice 2 course meal first,then it was full on to the Horse Racing DVD's. A DVD was randomly selected and after a report on each of 8 horses in that race,by the film commentator,people went to the Tote table where 4 Lion members were selling tickets to bet on numbers 1-8.Lion Neil Moxey was our MC and he then got buyers for each individual horse by getting people to make offers on each horse to get highest amount possible (8 races in all).We made a profit of £850
We had representatives from Multiple Sclerosis society,and Acorns & Squirrels Riding School for disabled children present and we were also raising money for Balloons charity and CLIC charity.
Here is a photo of the people from Riding for the Disabled.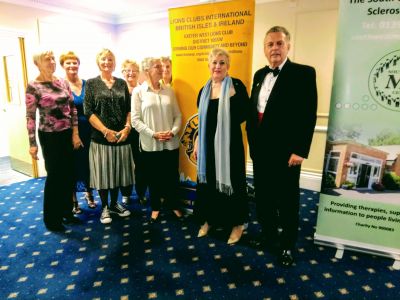 ---
On Wednesday October 16th 2019,we held a 10 pin bowling evening at Haven Banks Exeter
The Bowling alleys 22 in total are given to our club to use free of charge as all the money is for charity. This year we are supporting ELF (Exeter Leukaemia fund) We have teams of 6 and pay £10 each and we had teams of our club members and friends,a team from ELF,and teams from Lions clubs of Crediton,Okehampton and Holsworthy. Jenny Mitchell our secretary's wife ran the draw and raised £220 and the grand total was £1400. The winning team was ELF and they also had a team member with the highest individual score !! The booby prize ( a bar of chocolate) was given to Lion Peter Bromell
Here is a photo of the games in progress,with Zone chairman Lion Eric Parkes poised to roll the ball.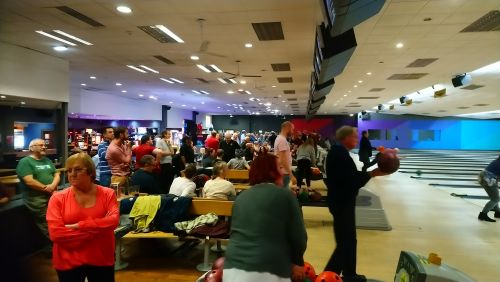 ---
---