SERVICE ACTIVITIES
Although unable to fund raise during this Pandemic, The Club has managed to support Many organisations. From The Children's Hospice SW £1000. donation, Food banks, St Petrock's Homeless charity and providing learning packs for home schooling during lockdown. Westbank Healthy Living, is an organisation that provides memory cafes and meals for older and isolated people. Lockdown meant many could not get in for meals, so the club provided funding for meat and meal contents which allowed the wonderful staff at Westbank to provide over 1800 meals. The club also provided, Turkey, Ham, Pork, Sausages, pigs in blankets and mince pies allowing Westbank to provide fifty Christmas dinners.
Westbank organiser Vicky Hutchinson received the Christmas meat package from Lion President Neil Moxey and Elf Lion Sharon Foster, at Lloyd Maunder Exeter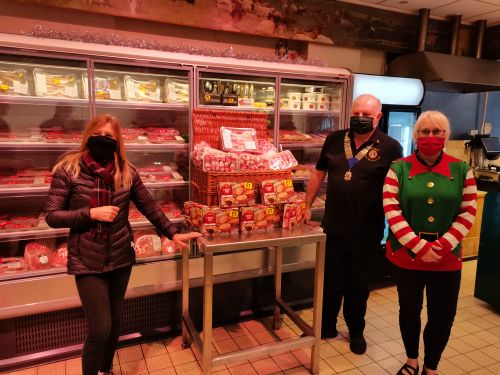 Westbank also provided Christmas food parcels for over 110 of their Clients Several members of the Club then delivered them all over the Exeter Area. Each parcel also contained a note about the Lions Clubs and the Message in a bottle service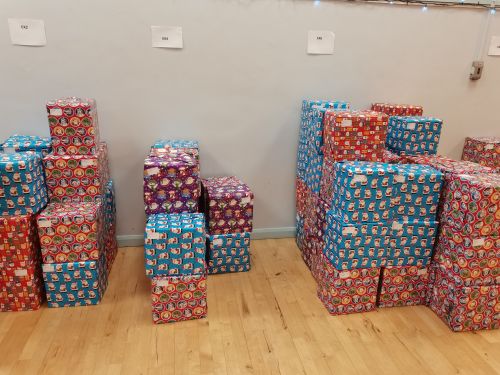 SOME FUND RAISING 2019 -2020
Our youngest club member Aimee Foster aged 19, organised an Easter weekend Bingo evening at the Ley Arms, Kenn. Having bought an electronic bingo machine and sets of books. The bingo books with a flyer game were sold for £10 each. With prizes for a line, and full house on each game. The prize for a line was a large Easter egg. For a full house, it was a boxed Chicken Dinner complete with vegetables The prize for the final Flyer game was a boxed LAMB dinner complete with all vegetables The evening made a profit of £352 for our charities. A wonderful effort Aimee !
OTHER EASTER FUNDRAISING
In the weeks leading up to Easter 2019, Large especially decorated Thornton's Easter eggs were placed in several of Pubs in our area. Numbered squares were sold for £1 a square. With the winners being drawn on Easter Sunday, after the cost of the eggs were deducted, the profit for our charities was £922. This was repeated at Easter 2020. But Covid-19 put the pubs into lockdown before the draw. However thanks to the landlords, individual generosity and an auction £165 was raised for Bounce Charity and after costs, just over £200 went to the charity account.
---
On Saturday October 5th 2019, a Race Night was held at the Exeter Golf and Country Club.
75 people enjoyed a very nice 2 course meal, which was followed by the filmed Horse Racing. A DVD was randomly selected and after a report on each of the 8 horses in a race, people went to the Tote table where 4 Lion members sold tickets for each of the runners who were numbered from 1-8. Lion Neil Moxey, our MC then auctioned each horse, with the buyer of the winning horse receiving 50% of the total raised by that races auction. There were 8 races in all.
We had representatives from The Exeter Multiple Sclerosis society. Acorns & Squirrels Riding School for disabled children. We were also raising money for Balloons charity and the CLIC Sergeant charity. Following the evening. Each of the four Charities received £500
Here are some representatives from Riding for the Disabled.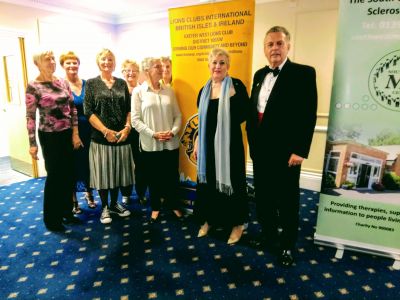 ---
On Wednesday October 16th 2019,we held a 10 pin bowling evening at Haven Banks Exeter
The 22 lanes of the Bowling alley are given to our club free of charge. With all the money going to charity. This year the funds raised were for ELF (Exeter Leukaemia fund) Each team is made up of 6 players, who pay £10 each for two full games. There were teams from local garages, Lions members and friends, Hospiscare, ELF, and other Lions Clubs from Crediton, Okehampton and Holsworthy. Jenny Mitchell our secretary's wife ran a draw which raised £220 towards the grand total of £1400. The highest scoring team was from ELF, who also had a team member with the highest individual score !! The lowest score and booby prize ( a bar of chocolate) was given to our clubs Lion Peter Bromell
A game in progress, with Zone chairman Lion Eric Parkes (Crediton) poised to roll the ball.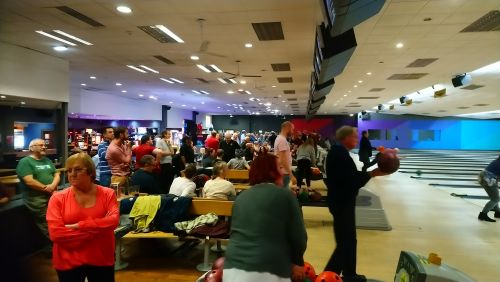 ---
---