Good Friday April 19th 2019
Our youngest Lion club member Aimee Foster aged 19, totally organised a Bingo evening at the Ley Arms,Kenn.She bought an electronic bingo machine on ebay, (very good it was too!),all the cards with numbers to give out to each person attending.Cards withe a flyer game cost £10 a head. There were prizes for a line, and full house on each game,and Full house on the Flyer. the prizes were Easter eggs for a line and boxed Chicken Dinners complete with veg/potatoes.The prize for the Flyer game was a boxed LAMB dinner complete with veg/potatoes.Aimee made a profit of £352 for our charities. A wonderful effort Aimee !
---
Easter fundraising 2019
In the weeks leading up to Easter, several of our Lions took Easter eggs that we had bought,into lots of Pubs in our area.They had sheets with numbers 1-100 and sold them for £1 a square.The winners were drawn out on Easter Sunday, and the proceeds for our charities were £922,which was an excellent amount.
---
On Saturday October 5th 2019,we held a Race Night at the Golf and Country Club,Exeter
75 people enjoyed a very nice 2 course meal first,then it was full on to the Horse Racing DVD's. A DVD was randomly selected and after a report on each of 8 horses in that race,by the film commentator,people went to the Tote table where 4 Lion members were selling tickets to bet on numbers 1-8.Lion Neil Moxey was our MC and he then got buyers for each individual horse by getting people to make offers on each horse to get highest amount possible (8 races in all).We made a profit of £850
We had representatives from Multiple Sclerosis society,and Acorns & Squirrels Riding School for disabled children present and we were also raising money for Balloons charity and CLIC charity.
Here is a photo of the people from Riding for the Disabled.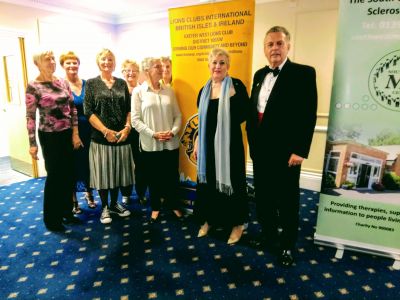 ---
On Wednesday October 16th 2019,we held a 10 pin bowling evening at Haven Banks Exeter
The Bowling alleys 22 in total are given to our club to use free of charge as all the money is for charity. This year we are supporting ELF (Exeter Leukaemia fund) We have teams of 6 and pay £10 each and we had teams of our club members and friends,a team from ELF,and teams from Lions clubs of Crediton,Okehampton and Holsworthy. Jenny Mitchell our secretary's wife ran the draw and raised £220 and the grand total was £1400. The winning team was ELF and they also had a team member with the highest individual score !! The booby prize ( a bar of chocolate) was given to Lion Peter Bromell
Here is a photo of the games in progress,with Zone chairman Lion Eric Parkes poised to roll the ball.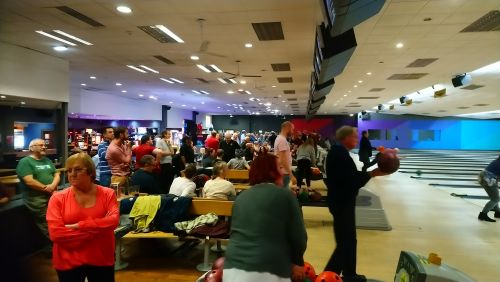 ---
---