Presidential Handover July 1st 2018
The Handover from Lion President,David Lyon,to new President,Lion Dr.Alan Benson,took place at the home of Lion Neil Moxey ,in the Spa outdoor pool in his Kennford garden.It was a really hot day,and so the two men got into the pool,and Lion David handed the Chain of Office over to Lion Alan in the pool!.Here are a few pictures of the event.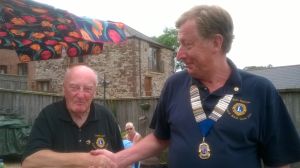 This was followed by a BBQ and a choice of delicious desserts
---
On June 30th 2019 the handover of Presidency from Lion,Dr.Alan Benson to new president Lion Martin Fairley, the home of Lion Martin and his wife Linda.Lion Alan made a punch with lots of fruit in it!! and members took along other drinks and contributions of hot and cold savoury food,and delicious desserts.All the food blended nicely together.Then Lion Alan presented a long service award to Lion Peter Collins,and then handed the Chain of Office to Lion Martin.Here are some photos.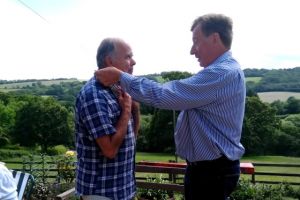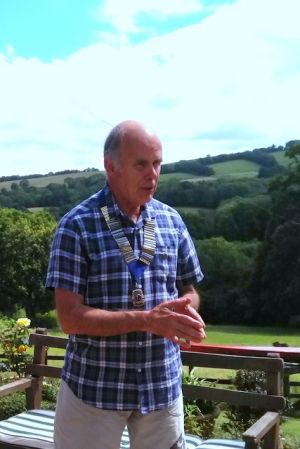 ---
On December 17th 2019,we held our Lions Club Christmas meal at The Ley Arms.36 people attended which included wives/partners and friends.This was all organised by Lion Mavis Crowley,with help from Steve and Sue Bates.A very tasty Turkey meal,Christmas Pudding or cheese and biscuits,followed by Mince pies and clotted cream .With wine on the tables very kindly given to us by The Ley Arms,an excellent meal was enjoyed by everyone,We then all had a present from "Secret Santa" from under the Christmas Tree.
Copyright © 2013 - 2019 The Lions Club of Exeter West. All rights reserved