---
Induction of a new member July 2nd 2019
At our business meeting at the Ley Arms, Kenn, Danny Moxey was enrolled into our club. He is following in a family tradition as his father Neil Moxey and brother Ashley Moxey are members as was his late grandfather Sid Moxey.
Lion Clif Cane read out the ETHICS AND PURPOSES of Lions International
Lion President Martin Fairley then pinned on his Lions badge All members then welcomed him into our club.

---
Induction of new member October 2019
On October 3rd 2019 the club enrolled James Balasundaram. as a new member. Then Lion President Martin Fairley and all members then welcomed him to the Club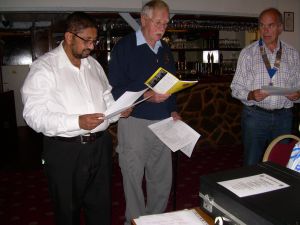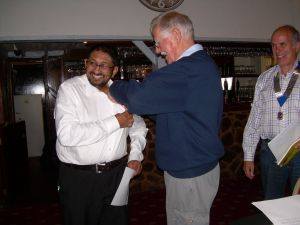 ---
On March 3rd 2020, we badged up a new member Inessa Ridgeway into Exeter West Lions Club.
On November the 2nd 2021 another new member Gemma Thomas, joined the club. One of a group of younger members we hope will be the future