Induction of new member.
On Tuesday March 6th 2018 we badged up a new Lion member of our club.
Her name is Sharon Foster and at aged 19,she is our club's youngest member
Here are a couple of photos of her Induction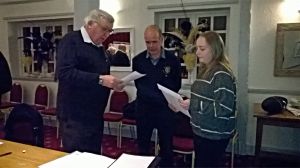 Past president Mike Mitchell with membership chairman,Martin Fairley,reading the code of Ethics and Lions club purposes , then Aimee replied that she accepted.She was then badged up by P.P Mike.Here is a photo.