Induction of new member.
On Tuesday March 6th 2018 we badged up a new Lion member of our club.
Her name is Aimee Foster and at aged 19,she is our club's youngest member
Here are a couple of photos of her Induction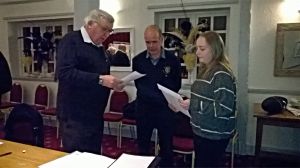 Past president Mike Mitchell with membership chairman,Martin Fairley,reading the code of Ethics and Lions club purposes , then Aimee replied that she accepted.She was then badged up by P.P Mike.Here is a photo.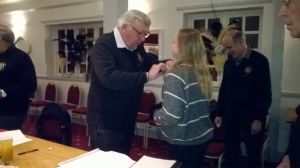 ---
Induction of a new member July 2nd 2019
At our business meeting at the Ley Arms,Kenn,Danny Moxey was enrolled into our club Exeter West Lions.He is following in a family tradition as his father Neil Moxey and brother Ashley Moxey are members and so was his late grandfather Sid Moxey.
Lion Clif Cane read out the ETHICS AND PURPOSES of Lions International.President Lion Martin Fairley then read out that our club had agreed to accept Danny as a member and did he agree to follow the Ethics of Lions,and wish to become a member,to which Danny said "Yes".
Lion President Martin Fairley then pinned his Lions badge on him. All members then lined up to shake his hand and welcomed into our club.
Here is a photo of President Martin,Danny Moxey and his father Neil on the right.
---
Induction of a new member August 6th 2019
At our business meeting on August 6th 2019,at the Ley Arms Kenn,Norman Denham was enrolled as a new member into our club of Exeter West Lions.
Lion Reg Williams read out the Ethics and Purpose of Lions International.
Lion President Martin Fairley then said that our club members had agreed to Norman becoming a member of our club,and asked Norman if he agreed with the ethics as stated ,and did he wish to become a Lion member.Norman said he would ,and accepted the rules as stated. As his sponsor,Lion Reg Williams then pinned his Lions Badge (which is a Centennial special badge to celebrate 100 years since Lions Clubs were first formed in Chicago)and shook hands to welcome him as a member.Then all the Lions went one by one to shake hands and welcome him.
Here is a photo of Norman having his badge pinned on him with Lion President Martin in the middle